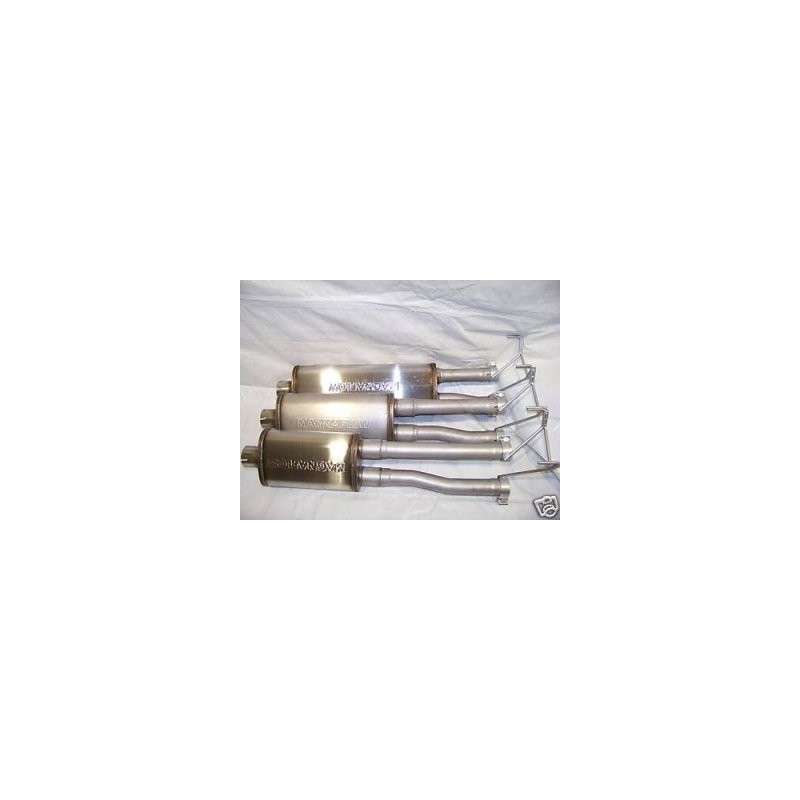  
Dual Exhaust For Ram 1500 Mellow......
2009 to 2018 Dodge Ram 1500 Mufflex 5.7 Hemi Muffler /Exhaust This is a do-it-yourself Muffler retrofit kit for 2009 to Present Dodge 1500 5.7 Hemi truck. Dual Exhaust Mellow
2009 to Present Dodge Ram 1500 Mufflex 5.7 Hemi Muffler /Exhaust
This is a do-it-yourself Muffler retrofit kit for 2009 to Present Dodge 1500 5.7 Hemi truck.
Why change the complete cat-back when the factory dual tailpipe system is already made of a 409 grade of stainless steel? We at Mufflex offer the kit in 3 varieties and 2 styles depending on your taste for sound. They are Aggressive, Moderate & Mellow. Please indicate which muffler desired when ordering. Also, please be certain of what you want as far as sound before making a muffler choice.
The mufflers are made of 409-grade stainless steel as are the extension tubes. They are also mandrel bent to maximize exhaust flow. All hardware and exhaust clamps are included for a trouble-free install.
*(all parts are American made)
This muffler retrofit is something that can be done by the casual mechanic & requires No welding at all. The install can be done in 2 hours using air tools. There is no need to pay a "Muffler Shop" to do a job like this with a universal muffler and substandard aluminized tubing when you can get a complete Mufflex 409 SS tube kit that has been engineered to fit your truck without issues. And there is no need to purchase a complete "cat-back" when it is not necessary and not be able to have a muffler choice in what sound you want from your truck.
This system fits all 2009 to Present Dodge 1500 half-ton pickups with the 5.7 Hemi engine 2wd 4wd all wheelbases. This unit was designed for the newer Ram Trucks from 2009 to 2018. 
This kit will not fit other years or applications prior to 2009...
Much time has been spent designing this kit, so the factory alignment of the tailpipes will remain the same as the factory settings. All of the parts are made of 409 stainless steel and include all mounting hardware and instructions for an easy Bolton install. (There is No Welding Required) Before ordering, Please note the sound level chart below. Please make sure of the sound level you desire as Mufflex Performance Exhaust will not exchange your muffler because you do not like the sound level.  
Usually ships in (3) three to (5) days from day the unit is ordered.
Sound level (scale from 1 to 10) 1 being the lowest and 10 being the loudest.
2009 Dodge Ram Stock Muffler Level-2
Part Number: DOD24M Level-4 Mellow [For Dual Exhaust Trucks only]
Recently, there has been a company selling inferior exhaust systems with our part numbers on them. Mufflex Performance Exhaust is not affiliated with this company, nor do we take responsibility for any of their products.
In closing; if it does not say Mufflex Performance on your sales slip... You did not purchase the product from us..
Data sheet
Model Number

DOD24M

Fits Model Year

2009 to 2018

Sound Level

Mellow Sound Level "4"

Muffler Included

Yes Magnaflow

Exhaust

409 Stainless Steel

Length

24" Without Exhaust Pipes

Total Length

35" Including Exhaust Pipes

Finish

Stainless Steel

Application

Dodge 1500 1/2 ton pickup with 5.7 Hemi Engine. 2wd 4wd all Wheelbases

Clamps Included

Yes

Instructions Included

Yes

Shipping

* Allow 3 to 5 days before this item ships..

Exhaust Type

Fits Dual Exhaust Only
You might also like