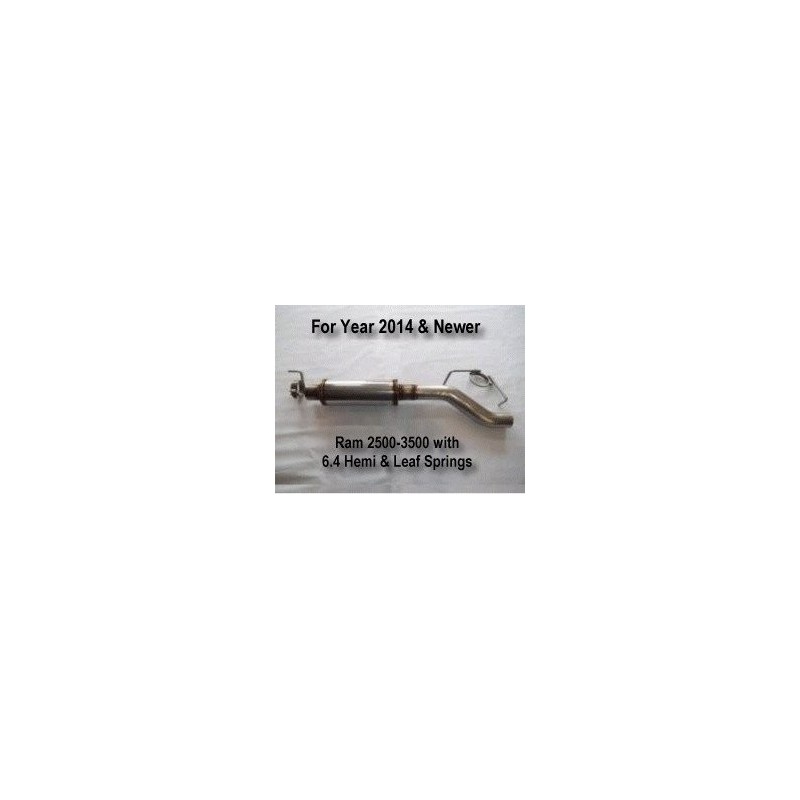  
2014 to Present Ram 2500 3500 6.4 Hemi with Leaf
This muffler Is a bolt in Retrofit for the factory's Restrictive Muffler for the 2014 Dodge Ram 2500-3500 & Newer models with a 6.4 Hemi engine with Leaf Springs


You asked and we delivered. Our New Moderate Sounding nonrestrictive muffler with a Magnaflow muffler and 3.5 stainless steel tubing for the 2014 Dodge Ram 2500-3500 With the Hemi 6.4 engine. Model Numbers DOD250035L

 The DOD250035L - Is a bolt in Retrofit for the factory's Restrictive Muffler. (The Factory muffler has a valve for full exhaust restriction at Part Throttle)

 This kit uses a 3.5" Stainless Steel Magnaflow Muffler with 3.5" Stainless Steel tubing with no welding required & Moderate Sound Level.

 This Muffler is for 2014 Dodge 2500-3500 with Leaf spring rear suspension & WILL NOT FIT earlier Leaf-spring suspension applications prior to 2014..

 This muffler was designed for 2014 Dodge 2500-3500 with 6.4 Hemi engine and leaf spring rear suspension.

 The cost of this muffler (Clamps included in price) is $309.75 plus S&H.

Much time has been spent designing this kit, so the factory alignment of the tailpipes will remain the same as the factory settings. All of the parts are made from 409    stainless steel, and includes all mounting hardware and instructions for an easy Bolton install. (There is No Welding Required) Please make sure of the sound level you desire as Mufflex Performance Exhaust will not exchange your muffler because you do not like the sound level.