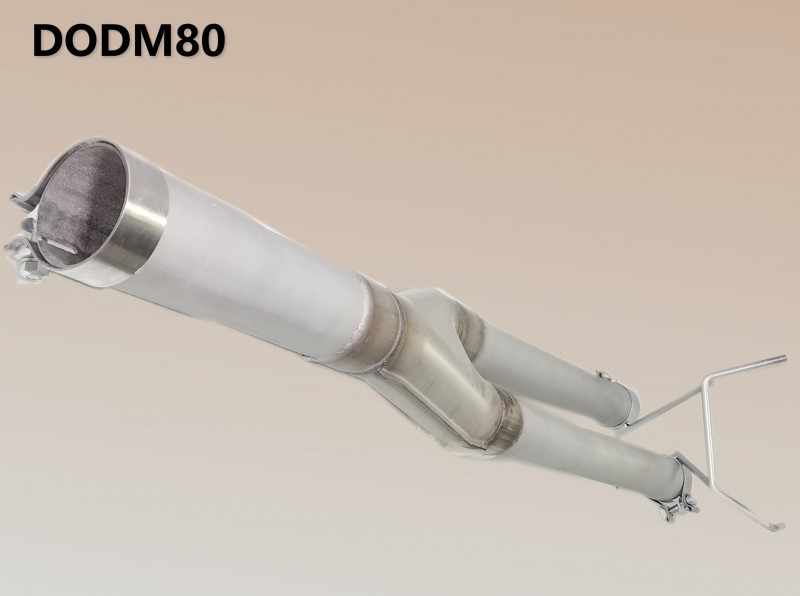  
Muffler Delete For Ram 1500 Very Aggressive
2009 to 2018 Dodge Ram 1500 5.7 Hemi M80 /Exhaust. 
2009-2018 Dodge Ram 1500 Mufflex Hemi M80 /Exhaust. This is a do-it-yourself Exhaust retrofit kit for the 09 to 18 Dodge 1500 Hemi truck.
You asked for it and we made it! The DODM80 is made by Mufflex for those who want something more aggressive sounding than our DOD14M. This unit is made of 409 Stainless Steel and has a lifetime manufacturer's warranty The decibel level on this unit is as aggressive as it gets with a sound level of 10. All hardware and instructions are also included.
The DODM80 can be installed by the vehicle owner in approx 30-45 min with air tools [no welding involved or special assembly required.] This muffler delete is VERY aggressive and may drone at highway speeds.
Please be sure this is the system for you and check local state laws regarding sound ordinances, as once the DODM80 is installed there are no returns or refunds.
Usually ships in (3) three to (5) days from date the unit is ordered.
Part Number: DODM80 Level-10 Very Aggressive [For Dual Exhaust Trucks only]

Data sheet
Model Number

DODM80

Fits Model Year

2009 to 2018

Sound Level

Very Aggressive Sound Level 10

Muffler Included

No This is a Muffler Delete

Exhaust

409 Stainless Steel

Length

35"

Total Length

35"

Finish

Stainless Steel

Application

Dodge 1500 1/2 ton pickup with 5.7 Hemi Engine. 2wd 4wd all Wheelbases

Clamps Included

Yes

Instructions Included

Yes

Shipping

* Allow 3 to 5 days before this item ships..

Exhaust Type

Fits Dual Exhaust Only